What is Breast Reconstruction?
Breast reconstruction (lumpectomy or mastectomy) is a procedure to rebuild and shape the breast and nipples following cancer surgery. It can be performed at the time of cancer surgery (immediate), or when the cancer treatment is finished (delayed). In general, breasts can be reconstructed either using implants or your own tissue. In the case of implants, there are two options: direct-to-implant, or the use of a tissue expander. The direct-to-implant method is a single-stage technique in which Dr Farhang Khoee places the implant immediately at the time of mastectomy. If an implant cannot be immediately placed, a tissue expander (a type of specialized balloon) is instead used to help stretch the skin and make pocket for an implant to be placed at a later time, typically 3 to 6 months after surgery.
Alternatively, breast reconstruction can be performed using your own tissues from another part of your body. The most common donor sites are the abdomen, the upper back, or the buttocks. The tissue, which may be a combination of fat, skin and muscle, is shaped into a breast mound and may look and feel more natural than a breast implant.
Dr Farhang Khoee has extensive training in cancer reconstruction after obtaining the Breast and Microsurgery Fellowship at Memorial Sloan Kettering Cancer Center in New York City. She was specifically recruited to Windsor Ontario to help establish a Breast Reconstruction program, a service the city has been without for over a decade. She performed the first immediate implant-based breast reconstruction in Windsor in the fall of 2017. In addition, she is interested in the advancement of patient-reported outcomes and generating a databank using the Breast-Q.
Dr Farhang Khoee will be delighted to meet with you to specifically discuss the right breast reconstruction option for you.
For further information breast reconstruction and Breast-Q, please refer to the following websites:
Erie St. Clair Regional Cancer Program – Patient Education Pamphlet http://www.wrh.on.ca/Site_Published/wrh_internet/DocumentRender.aspxBody.IdType=5&Body.Id=91251&Body.GenericField
Memorial Sloan Kettering Cancer Centre – Patient Education
https://www.mskcc.org/cancer-care/types/breast/treatment/reconstruction-prosthesis

Breast Q
https://www.thepsf.org/research/previous-projects/breast-q
---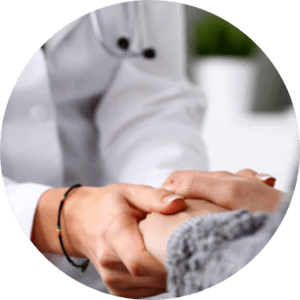 Let's Build Your Care Plan Together